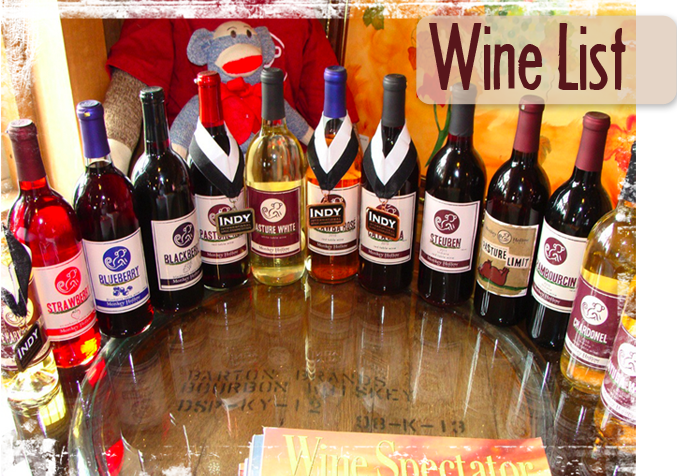 New! Shop select wines in our online store.
Complete Wine List
---
Dry
Combined Dry White
 A farmer's blend crafted from a combination of Cayuga White and Riesling Grape
2014 Chambourcin
A dry red wine with an intense deep red color and flavor to match. This wine is fully aromatic with hints of blackberry and plum
Combined dry red
Dry red wine with a combination of Cab Franc and Chambourcin
---
Semi Sweet/Semi Dry
Traminette 
Official signature wine of Indiana. Semi dry white wine has delicate floral characteristics and a stylish structure.
Chambourcin Rose'* out of stock
Semi sweet Rose' wine
Pasture Limit 2
Made with concord grapes and aged in an oak barrel
Ol' Grandad==Almost out
Made with a blend or grapes and aged in Kentucky barrel
---
Sweet Wine 
2014 Vignoles 
Sweet white wine
Pasture White 
 Sweet white wine BLEND
Pasture Red 
Concord wine
---
Fruit Wines
list as of 12/06/17 
Blackberry
Blueberry
Elderberry
Cherry
Peach
Strawberry * Out of stock *
---
Seasonal
Spiced apple
Winter Warmer